New Episodes Weekly
Turn Your Brain Off
A game-changer for athletes and anyone looking to improve their mindset and achieve their full potential. Exclusive interviews with world-class athletes, successful entrepreneurs, and accomplished creatives, you'll gain access to the mental strategies and techniques used by top performers to win. Whether you're looking to boost your performance, overcome mental obstacles, or simply stay motivated, TYBO has everything you need to unlock your inner champion. With actionable advice and cutting-edge insights, you'll be well on your way to achieving your goals faster and reaching new heights.

ALL EPISODES
LISTEN NOW
Start Listening Today
Latest Episodes
The Top Episodes
Featured Episodes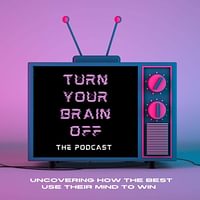 WOOP There it is - Turning Dreams into Reality: The Power of Concrete Steps

The Only Fight that Matters: The One Happening Today
00:01:50

Thirsty Thursday: The Importance of Intention and Sacrifice in Achieving a Flourishing Life
00:02:21

Thirsty Thursday: How to Overcome Hesitation and Take that Leap of Faith
00:02:41

Thirsty Thursday: What is Success? (and a little bit of poetry)
00:03:56

Thirsty Thursday: Forming Positive Habits with Three Practical Tips
00:02:14

Skylar Grote on Resilience and Excellence: How Top Performers Overcome Challenges
00:54:11

Thirsty Thursday: Achieving Consistency for Success
00:02:59

Thirsty Thursday: Unlocking Growth: Embracing Challenges, Overcoming Obstacles, and Expanding Your Mind
00:04:16

Thirsty Thursday: Harnessing Positive Self-Talk
00:03:57
We Love Your Reviews
What People Are Saying
Apple Podcasts
Wow
I listened to this podcast to listen to Riley Wakefield and now I can't get enough! Great podcasts!
Apple Podcasts
So good
I love how vulnerable these guys are. They are amazing interviewers but most importantly the guests and content the deliver is valuable and insightful helping all kinds of people from athletes to entrepreneurs and parents to professionals.
A mindset and mental wellness podcast you won't forget.
Join the clan today to get info about upcoming episodes, member-only content, updates and much more.

Member-only Episodes

Printed Show Notes
Join a Webinar

Special Access to Guests
Sign Up
Join the Newsletter
Subscribe to The Show
Get new episodes directly in your inbox - We send updates every week-day, and bonus content over the weekend.
Sign Up